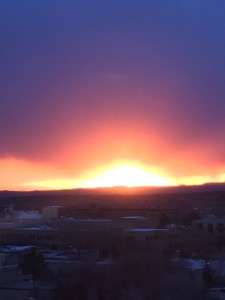 Hey Scotty,
I recently read "Mind Over Medicine," by Lissa Rankin, M.D. and came across this statement which reminded me of something you once said:
When a well known acupuncturist and scientist was asked how he justified practicing a certain modality when most randomized clinical trials failed it's effectiveness beyond placebo, he said because "I am a damn good Healer. Thousands of people have come to me and gotten better. Because, in the end, it's really not about the therapist, doctor, acupuncturist or Rolfer. It's about the man."
Thanks for all your fantastic work over the years. You have changed my life in ways I can't even express.
Bless you and keep up the great work, Scott. You are a special man and Healer.
Your friend, Joe    Las Vegas, NM
Clicking here will take you to the Front Page
_________________________________________________________________________
Thank You Scotty,
I am more balanced, healthier and happier than anytime in my life.
Seems, you just keep learning and growing and becoming more profound.
Please keep working- The world needs you!
With all my Love, Rachael
__________________________________________________________________________
Hi,
I have been meaning to write this for awhile. I honestly cannot believe how good I am feeling. My neck which has been tight and painful ever since I was about 16 years old now is pain free. I have tried everything: I had been seeing a chiropractor off and on for about 30 years and now I have not been to the chiropractor in over 1 1/2 years. Sure I would get some temporary relieve from them but my pain would always return. Not Now! I have been to all kinds of massage therapist, rolfers, energy workers and nothing has ever helped me like your treatment. Thank You! Thank You! Thank You! You are a god send.
 Rose     Kansas City
Clicking here will take you to the Front Page
Scotty,
Your treatment has changed my life.! I have never felt better mentally or physically. I am sleeping better; I have not had a headache or migraine in over three months; everything just seems to be flowing smoother. Remember I was hesitant about the cost? Now I would pay you 20 times more than you charge. If you are ever in Boulder please give me a call.
 Jennifer P.      Boulder, Co
I am writing to give you an update on my condition: I still have not had a headache or migraine since your treatment- about 6 months now. I am sooo happy. I had a constant migraine my whole life and now for the first time in over 30 years I can proudly say I feel like a normal person. I am forever indebted to you. I am still telling everyone I know and meet about your treatment. God Bless You!
Kathleen     Santa Fe,  NM
Hey Scotty,
Yes, of course you can use my email, as long as you don't post my last name I've got no problem with it. I am doing GREAT! My C5/C6 disc is almost completely cured without epidural injections or surgery. No pain meds and I sleep through the night now. That's not the only effect however! One night shortly after the procedure I was eating dinner and my jaw started to freeze up. I've suffered from TMJ for many years with pain and loud popping noises in my jaw when I eat. It was always embarrassing when having dinner with other people because I knew they could hear it. This was a new sensation though. I didn't have any pain but I couldn't open my mouth. My jaw muscles were as tight as a drum. Then slowly they began to relax. In a few minutes it was over and I was eating again with one amazing difference, no jaw popping, at all! My TMJ was completely gone and it hasn't returned! Amazing!
As great as these results are however, they in no way can match the spiritual effects I have experienced from this procedure! I was only looking for relief from the nerve pain in by back and neck, so this has been completely unexpected! Maybe when I see you next I'll tell you all about it. Suffice to say "The sleeper has definitely awakened!" God bless you!
See You Soon,
Jeff
__________________________________________________________
Hi Scotty,
Atlas Profilax is one of the most beneficial and subtly profound and progressive modalities I've experienced.  10 years ago I was diagnosed with lots of spinal degeneration mostly due to congenital twists, curves and rotations in my spine coupled with skiing and accident related whiplash syndromes.
Needless to say, my cervical and lumbar spine areas have been incredibly vulnerable my whole life, therefore have had lots of body work over the years.
After the work Scotty did on my Atlas (it's been about a month now) I've had many incredible results, the most obvious of which is full range of motion in rotating my neck and head…the first time in a decade! Actually, the very first thing I noticed
was my jaw. I have TMJ and my jaw stopped popping, my teeth were comfortable in my mouth and I stopped clenching my teeth at night in my sleep!
On a more subtle level, I have more circulation in my extremities ( I can tell because I've felt the tingling sensations related to blood moving back into my surface tissues) similar to that when circulation is temporarily cut off and upon its return there are those prickly tingles; my Yoga practice has stepped up a notch (I feel stronger all around and much more balanced in standing poses); I can feel my spinal issues unwinding (the muscles, normally tight, are slowly releasing and not as bound up), especially in the areas of my neck, shoulders and low back; and then there are the mental, emotional and spiritual results.
So, with much gratitude, I thank you Scotty for helping me shift so dramatically.
Shelley         Santa Fe, NM
Clicking here will take you to the Front Page
Scotty,
I just wanted to drop you a note and say a big "Thanks".  I've done about everything there is to do on this planet for my neck and always seem to be disappointed in the result.  Every day, I still wake up, expecting my neck to revert back to its original, screwed up ways but it seems to be very stable now.  I'm holding my head up straighter, and true to what you said, the rest of my back seems to be behaving better as well.  I become more optimistic every day that your treatment will be the magic pill that I needed.
Please let me know if and when you come to Denver.  I would love to have you give me another check up, just to make sure, I've got my head screwed on straight!
Thanks Again!    Dale      Denver, Co
Scotty,
Just a quick update… after almost a month, I still feel great. I've never had any treatment that lasted so long. Thanks!
Dale
Hi Scotty:
You know that I've been in several rear-end collisions this year and have suffered from whiplash symptoms for far too long.  The Atlasprofilax treatment has made an incredible difference in my healing process.
Ryanna and Noah have been in the car with me when those accidents occured, and we have tried other types of treatment but they still complain about their neck and back occassionally.  They are also so active in sports where they fall or are hit on the field. I found the Atlasprofilax was so safe and effective for them. They both have made comments of how well they feel.  I think this modality is perfect for my children as they are still a little afraid of manual manipulation.
Brian has also told me several times that his neck has never felt better!
With much appreciation from the whole family!
Beth     Santa Fe, NM
Clicking here will take you to the Front Page
Scotty,
Your Atlasprofilax  is really good!  I like the whole idea of it and for me with my dizziness that appears now and then, but not since your Atlas and neck work, I'm a good test. Bob really felt his range of motion in his neck was much improved as did I.
Marilyn    Chicago, Il
Scotty,
Thanks so much!
Hugs, Harmony
For months, I had a deep recurring pain on the right side of my head.
With one session with Scotty, it is gone.  Thanks so much Scotty for
screwing my head on straight!            Harmony     Santa Fe, NM
……………………………………………………………………………………………………………………
Clicking here will take you to the Front Page
Click here to Read Scotty Holding's Bio

Contact Scotty Holding today for a free consultation and evaluation.